Features & Benefits
STYLE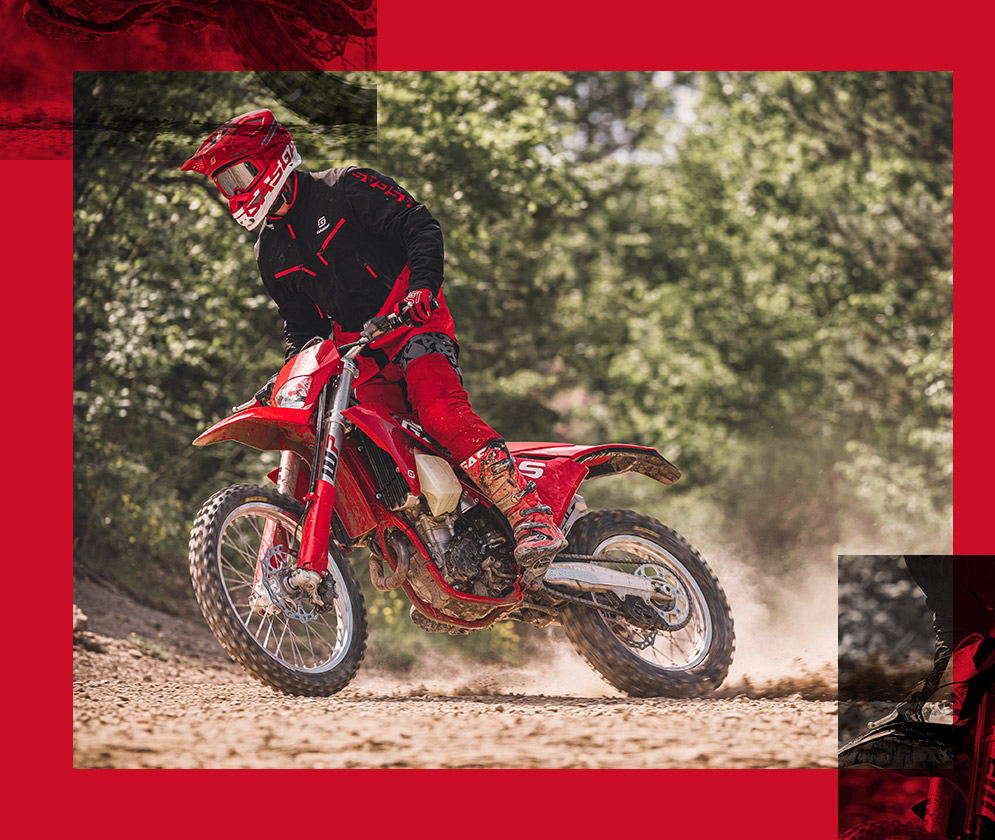 BODYWORK
All red and all-new! Fully redesigned from front to back, the sleek bodywork is incredibly ergonomic with larger contact surfaces and an improved rider triangle further enhancing control. The rad shrouds are shaped to help better grip the bike as you get on the gas. There's also a super grippy seat cover keeping you sat exactly where you need to be.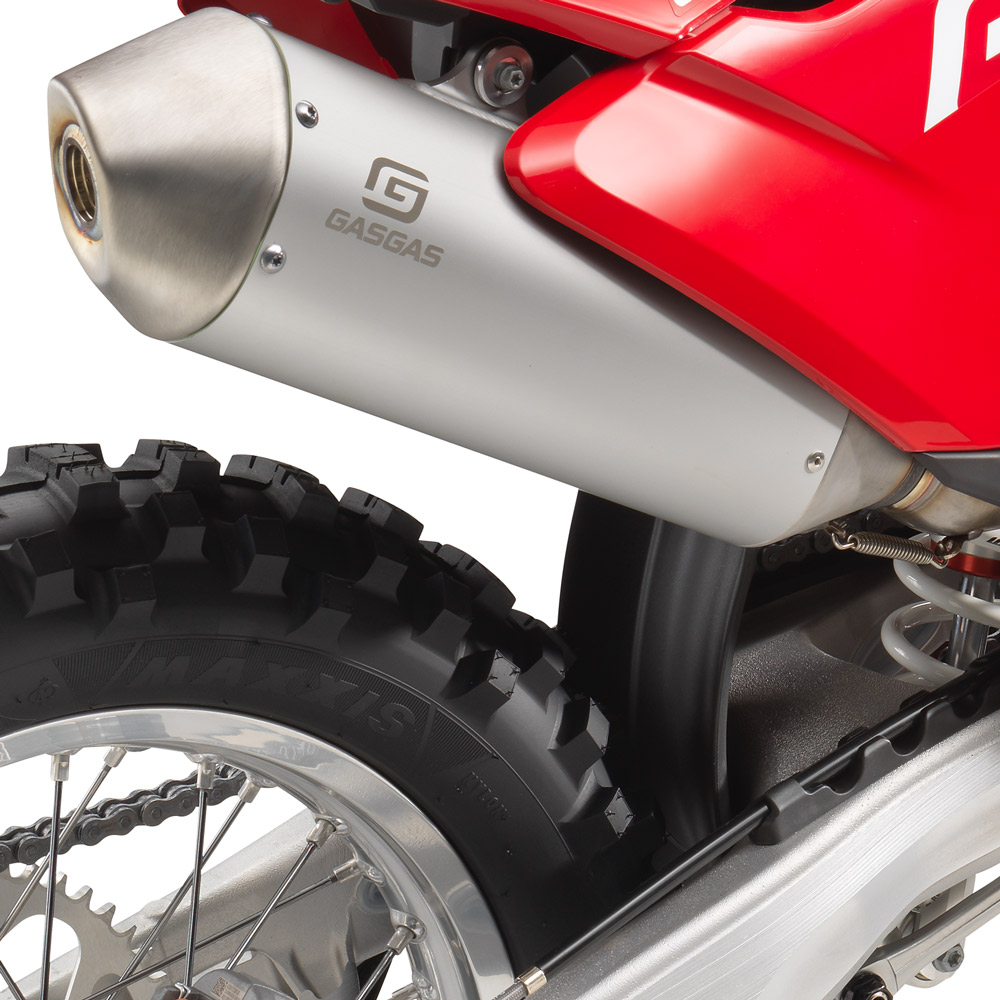 EXHAUST SYSTEM
Delivering enduro specific power as well as being competition-compliant, all our exhausts are designed and built to meet FIM sound regulations! Our 4-stroke header pipes wrap tightly around the motor to keep them out of harms way and deliver the very best performance at the lowest possible weight. They're also made in two pieces, which means they can easily be removed without needing to take out the rear shock. At the rear, there's short and compact silencer made from aluminum with a raw finish because, lets face it, it's going to get scratched sooner or later!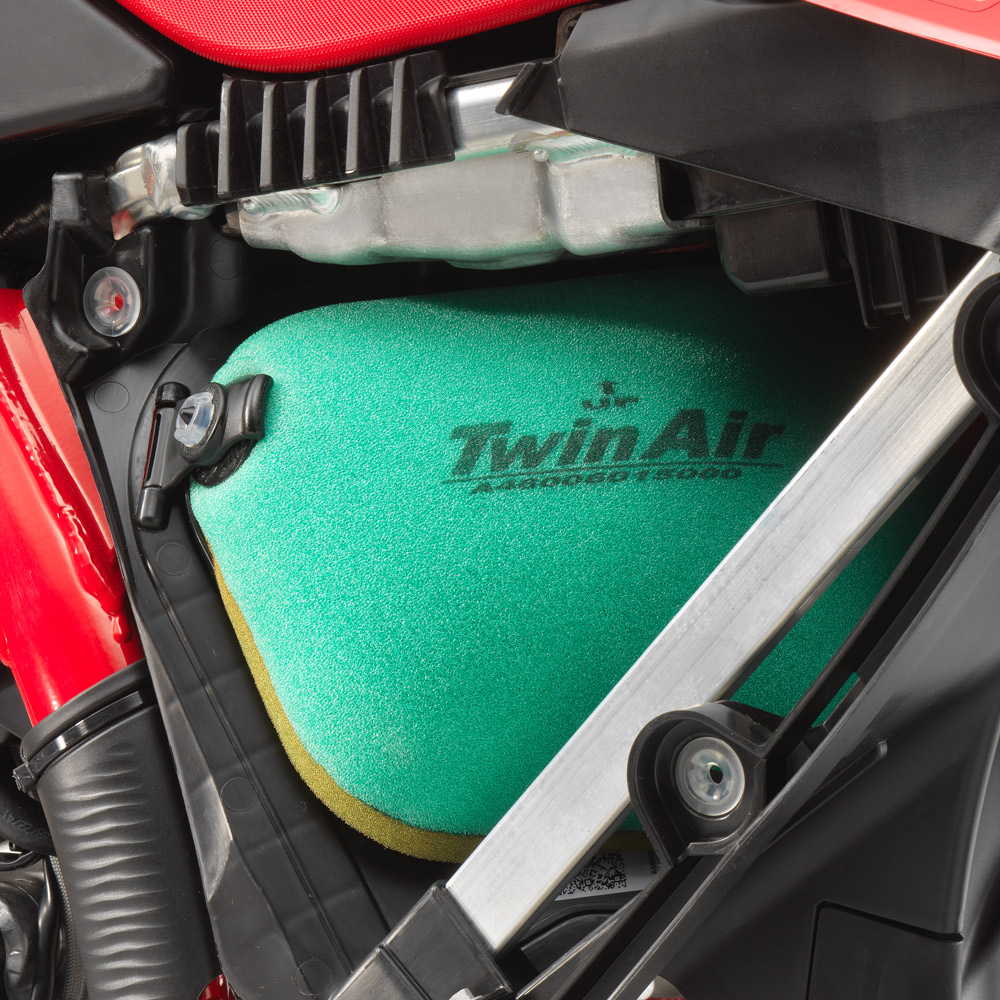 AIRBOX
Less time working on bikes means more time riding bikes, which is precisely why you'll love the straightforward, no tools and no nonsense filter mounting system. Allowing quick and easy filter changes, the airbox is designed with precisely positioned inlet ducts to direct the flow of air towards the Twin Air filter, which helps create maximum horsepower.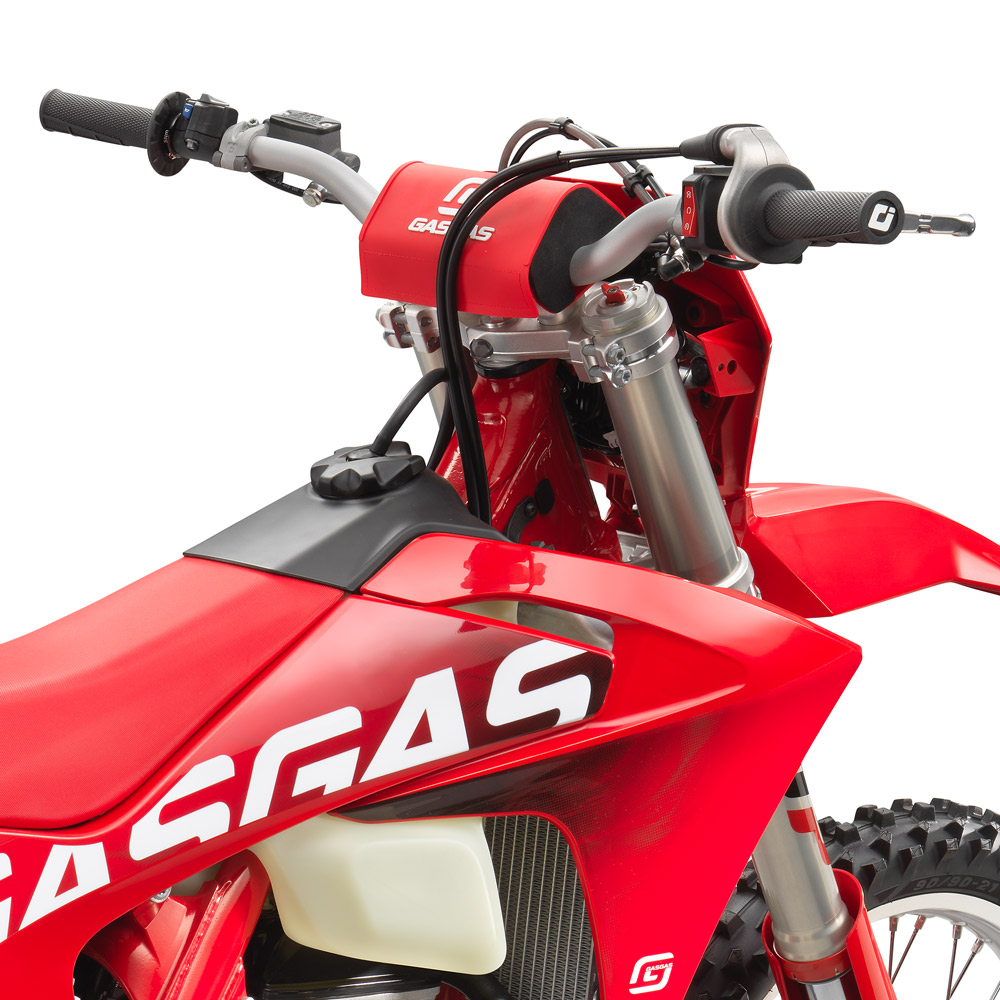 NEKEN HANDLEBAR, GRIPS & THROTTLE ASSEMBLY
Get on the gas and hold on tight! Not too tight though as nobody likes arm pump... But to make sure the riding is comfortable, Neken handlebars are clamped into redesigned bar mounts (they're less resistant to twisting if you should hit the deck), with lock-on style, medium compound ODI grips fitted to create a comfy set-up to suit all riders. There's also a new, stronger throttle housing that's more impact resistant for improved durability.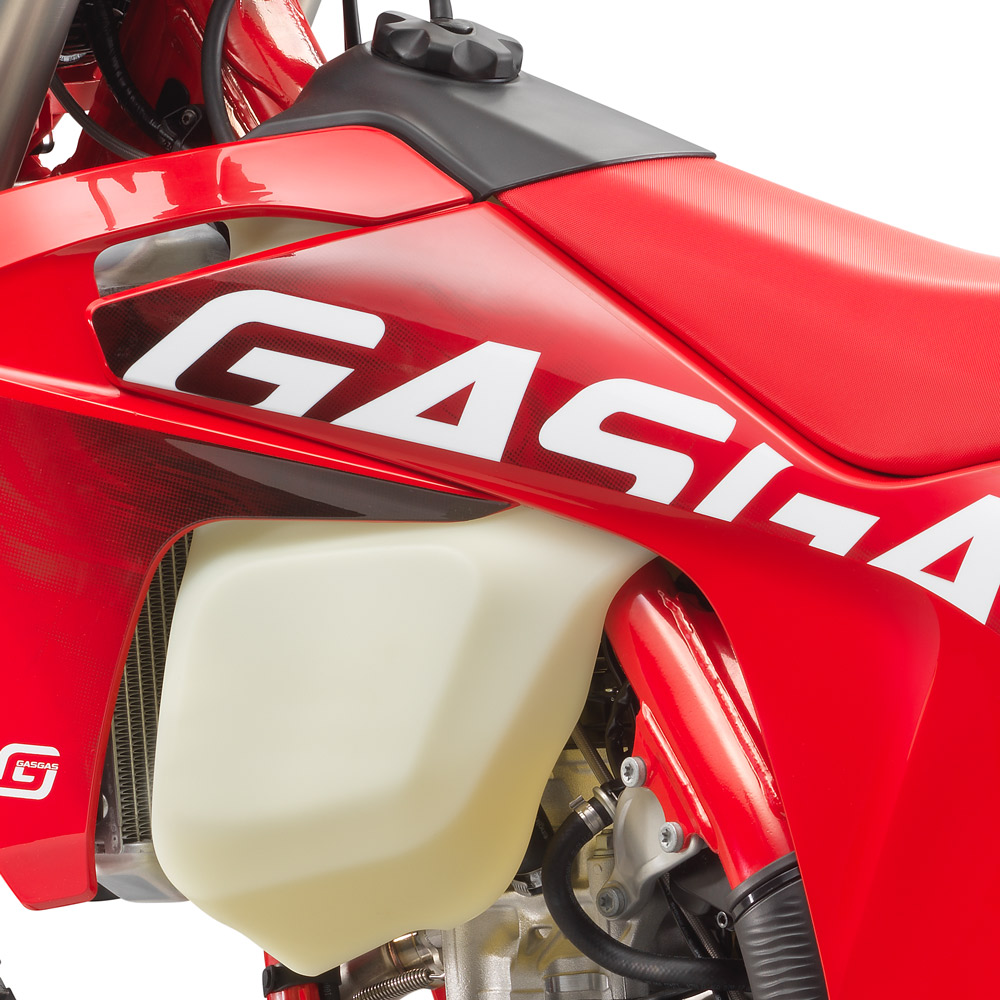 FUEL TANK
The all-new tank holds nine liters of fuel but it remains just as slim as the old one. Made from transparent polythene, riders can easily see how much fuel is inside the tank with a threaded filler cap providing a secure and reliable seal. With an integrated fuel pump allowing the tank to be emptied further before refuelling is needed, extended rides are not a problem for this GASGAS!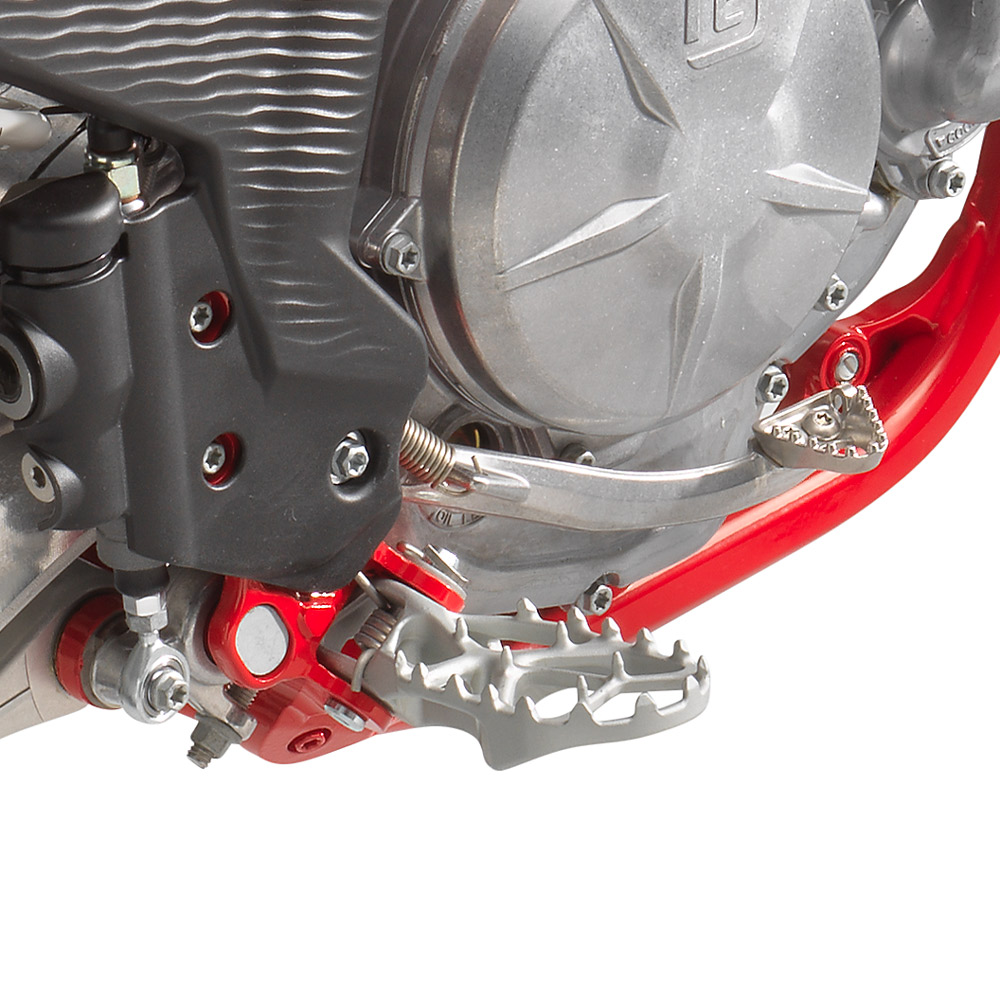 FOOTPEGS
Bigger is better when it comes to footpegs, which is why on the new models there's a bigger platform for better control. Plus, thanks to a new mounting design, they're placed further inward on the frame, which makes them less prone to catching the edge of deep ruts and a like.